Description
Cisco ME 3600X Switch
DUAL power supply
ME-3600X-24FS-M
Refurbished Switch Network Equipment
Cosmetic and functional condition for item is as stated in above item grading.
For a complete description of item grading please read below.
Batteries may be used, unless otherwise stated and may not  be fully charged at time of shipping.
Current hardware drivers may not be fully installed at time of sale.
All laptops or desktops come with  a compatible adapter and/or power cable unless otherwise stated.
Notes:
Items may not be refurbished to exact OEM specification and may contain compatible parts
Batteries that are used may not have the same capacity or retain a charge like a new battery.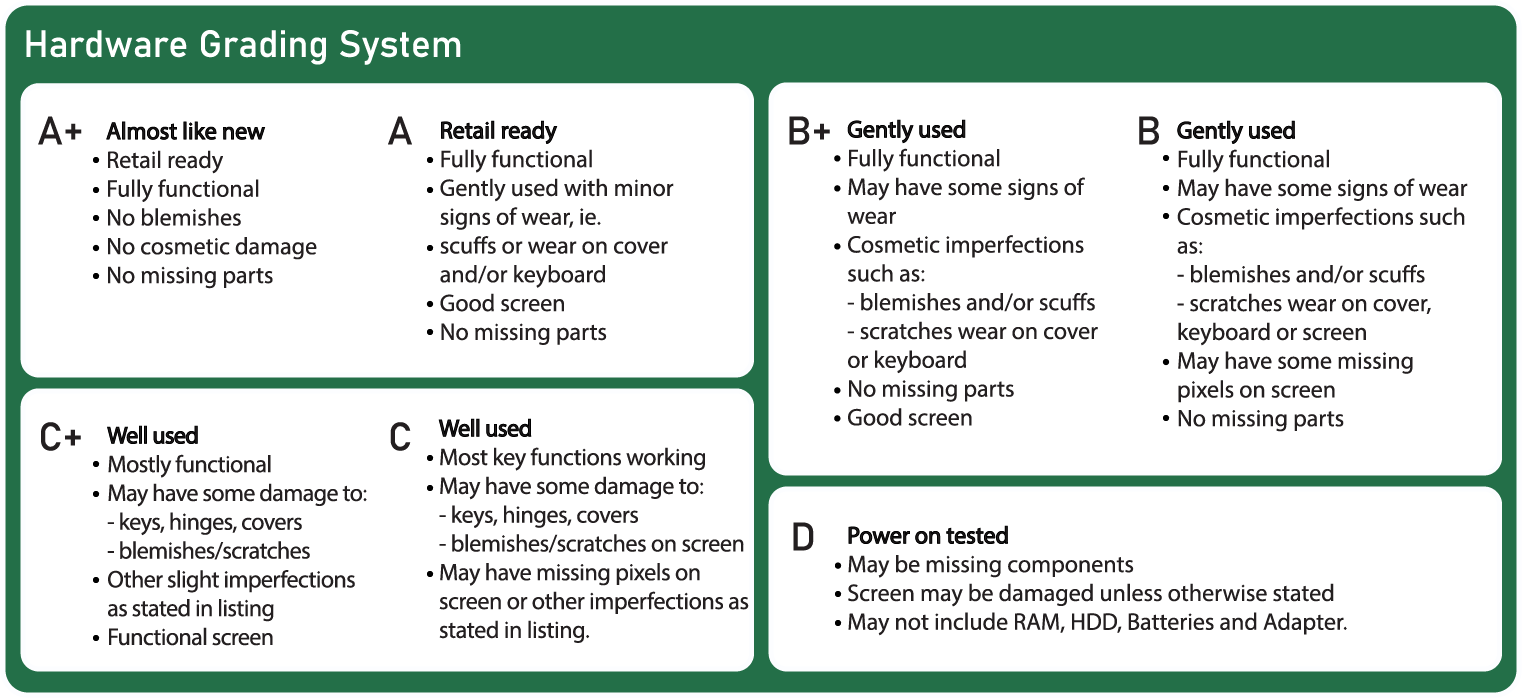 Product Overview
The Cisco® ME 3600X Series of Ethernet Access Switches is Cisco's first series of switches built specifically for the convergence of wireless and wire-line services. A natural evolution to Cisco's Carrier Ethernet portfolio, the Cisco ME 3600X Series extends the portfolio's transport speed to 10 Gbps in the access layer for business and mobile applications. It also enables service providers to initiate Multiprotocol Label Switching (MPLS) -based VPN services from within the access layer. Designed around key Carrier Ethernet features that simplify network operation, the Cisco ME 3600X Series enables premium services with enhanced service-level agreement (SLA) capabilities. An optional "pay-as-you-grow" feature and service activation model gives service providers a flexible, cost-effective solution.
The Cisco ME 3600X Series Ethernet Access Switches (Figure 1) are 1-rack-unit (1RU), fixed-form-factor platforms available in copper and fiber hardware-optimized configurations:
●     Cisco ME 3600X-24TS (copper) with 24 10/100/1000 ports and two 10 Gigabit Ethernet SFP+ ports
●     Cisco ME 3600X-24FS (fiber) with 24 Gigabit Ethernet SFP ports and two 10 Gigabit Ethernet SFP+ ports
Figure 1.        Cisco ME 3600X Series Ethernet Access Switches
Benefits
Created for the delivery of today and tomorrow's access services , the Cisco ME 3600X supports existing and next-generation features and technology while remaining operationally simple to deploy and manage. It offers the following key benefits.
Powered by the Cisco Carrier Ethernet ASIC
Powered by the Cisco Carrier Ethernet ASIC – designed specifically with service providers in mind, the Cisco ME 3600X series delivers essential Carrier Ethernet technologies including: H-QoS, MPLS and Virtual Private LAN Services (VPLS). This custom and advanced ASIC design provides un-interrupted line rate performance while delivering complex and taxing services such as ACL and H-QoS. The Carrier Ethernet ASIC integrates Cisco traffic management innovation to deliver intelligent packet switching and routing operations.
MPLS in the Access Layer
The Cisco ME 3600X Series extends MPLS into the access layer by enabling service providers to initiate MPLSbased Layer 2 and Layer 3 VPN services from within the access layer. The Cisco ME 3600X Series gives service providers the ability to expand MPLS toward their network edge to gain the advantages of a single unified MPLS control plane across their network. The Cisco ME3600X offers full VPLS support allowing multipoint services definition. For additional flexibility, VPLS can be deployed as a full mesh or with a hierarchy (H-VPLS).
"Pay-as-you-Grow" Investment Model
The use of licensing to activate features on the Cisco ME 3600X Series allows service providers to customize and schedule their investment in access features for a time when network growth and customer demand justify the investment. Unlike investments in the core and edge, where the physical location of network assets has minimal impact on their accessibility and usage, the ROI on an access element is heavily influenced by its location in the network and proximity to customers. The ability to deploy the Cisco ME 3600X Series and later activate features as demand and growth dictate, with little if any need for service calls, delivers highly measureable investment protection. This allows flexible timing for migrating from 1 Gbps to 10 Gbps, deploying MPLS services, and boosting service capacity.
Advanced Service-Level Agreements (SLA)
Service-aware quality of service (QoS) allows service providers to expand and differentiate their services portfolio with highly advanced and differentiating SLAs. The Hierarchical QoS capabilities of the Cisco ME 3600X Series scale to eight queues per service, three levels of scheduling, and buffer volumes capable of accommodating today's most demanding wireline and wireless applications.
Mobile Timing and Synchronization Services
The Cisco ME 3600X Series provides the timing services required in today's converged access network to support mobile solutions including Radio Access Network (RAN) applications and offers integrated support for Building Integrated Timing Supply (BITS) interface. The Cisco ME 3600X Series also supports synchronous Ethernet (SyncE) with Ethernet Synchronization Messaging Channel (ESMC) and Synchronization Status Messages (SSM) to allow best clock source traceability.
Operational Efficiency for Carrier Ethernet Access Deployments
The Cisco ME 3600X Series features key enhancements that help service providers simplify and facilitate the management of their network, resulting in diminishing operational costs. This unique feature set enables the Cisco ME 3600X Series to be deployed in a variety of applications including business service with 10 Gigabit Ethernet User Network Interface (UNI) and Ethernet mobile backhaul. These features enhance performance awareness, facilitate troubleshooting, and simplify service turn-up and restoration, ultimately reducing operational cost. "Dying gasp" for power indicators and four external alarm inputs to detect changes in remote sites further help service providers manage the health of network elements.
High-Performance Hardware
Based on the Cisco Carrier Ethernet ASIC, the Cisco ME 3600X Series is a non-blocking switching system providing line-rate Carrier Ethernet performance. The custom Cisco Carrier Ethernet ASIC technology enables next-generation Carrier Ethernet service integration without impacting line-rate performance. The 1RU switch holds two slots for hot-swappable and redundant power supplies. Three fans are integrated into each power supply, providing fan redundancy. High Availability is also achieved on the Cisco ME 3600X Series through proactive diagnostic tools including Generic On-Line Diagnostics (GOLD) and Onboard Failure Logging (OBFL).
These tools help service providers avoid potential problems before they occur and troubleshoot and diagnose once identified.
Table 1 lists the hardware part available for the Cisco ME 3600X Series.