Description
Cisco ME 3800X Switch
DUAL power supply
ME-3800X-24FS-M
Refurbished Switch Network Equipment
Cosmetic and functional condition for item is as stated in above item grading.
For a complete description of item grading please read below.
Batteries may be used, unless otherwise stated and may not  be fully charged at time of shipping.
Current hardware drivers may not be fully installed at time of sale.
All laptops or desktops come with  a compatible adapter and/or power cable unless otherwise stated.
Notes:
Items may not be refurbished to exact OEM specification and may contain compatible parts
Batteries that are used may not have the same capacity or retain a charge like a new battery.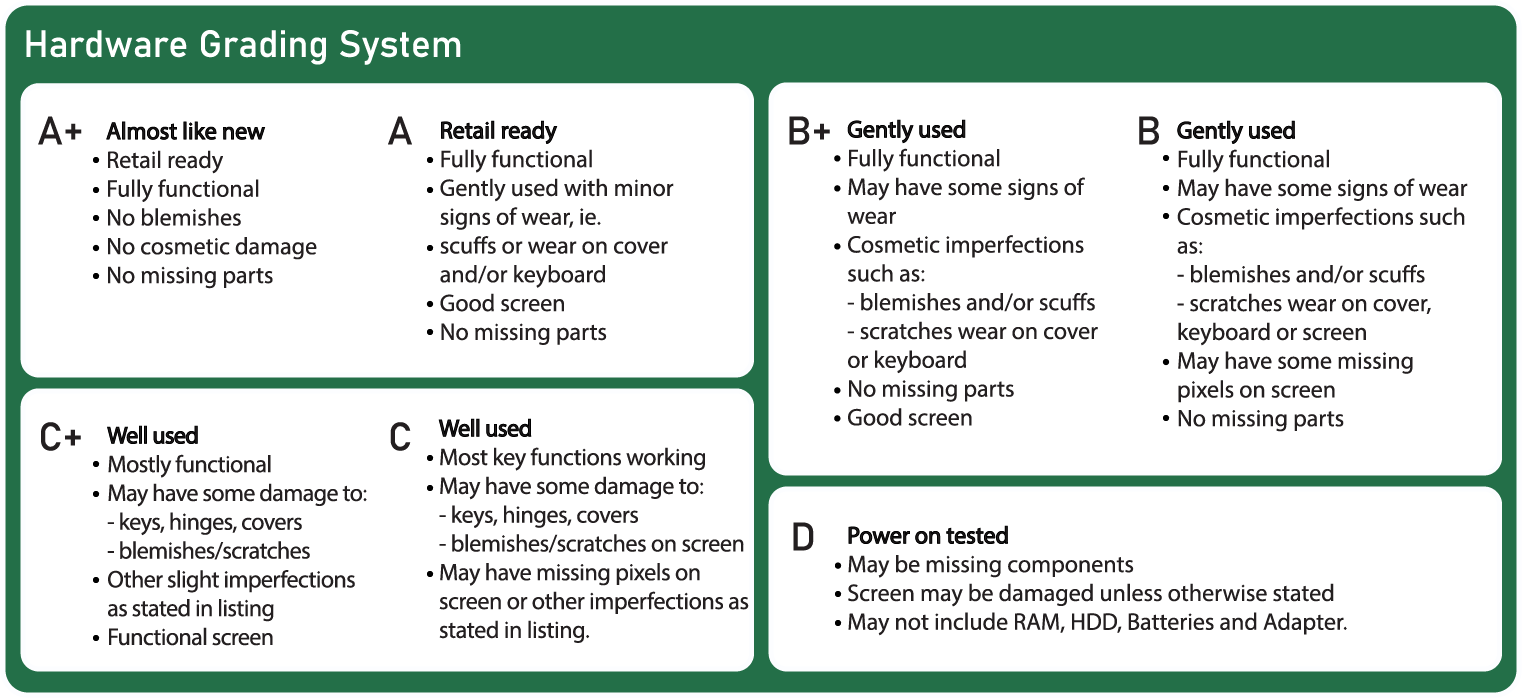 The Cisco® ME 3800X Series Carrier Ethernet Switch Router is a converged, full-featured aggregation platform purposely designed for the mobile, business, and residential markets. With low power consumption and high service scale, this 1-rack-unit (1RU) switch router is optimized for small aggregation and remote point-of-presence (POP) applications making it a highly cost effective option. The Cisco ME 3800X Series expands the Cisco Carrier Ethernet aggregation portfolio while complementing the Cisco 7600 Series and ASR 9000 Series routers by providing a rich and scalable feature set of Layer 2 and Layer 3 VPN services in a compact package.
The Cisco ME 3800X Series (Figure 1) is a small footprint fixed-form-factor platform that comes in the following configuration:
●   Cisco ME 3800X-24FS with 24 Gigabit Ethernet SFP ports and two 10 Gigabit Ethernet SFP+ ports
Key Applications
Broadband Aggregation
The Cisco ME 3800X Series supports broadband aggregation for delivering "any-play" services (voice, video, data, and mobility). Designed to support thousands of subscribers, quality of service (QoS) on the Cisco ME 3800X Series is capable of scaling to 32,000 queues per device. This high number of queues combined with a more granular QoS algorithm (three-level hierarchical QoS) results in a greatly enhanced broadband user experience. This feature-rich Layer 2 and Layer 3 switch router supports a variety of broadband applications including IPTV and video on demand (VoD), enhancing and extending the Cisco IP NGN architecture.
Pre-Aggregation for Mobile Applications
Deployed as a pre-aggregation platform for mobile backhaul, the Cisco ME 3800X Series can aggregate Cisco MWR 2941 cell site routers and use MPLS as a transport for Radio Access Network (RAN) backhaul traffic. The Cisco ME 3800X Series offers timing services, allowing for mobile clocking synchronization from the core of the network toward the RAN. The Cisco ME 3800X Series can receive clocking information into its Building Integrated Timing Supply (BITS) interface. It supports synchronous Ethernet (SynchE) with Ethernet Synchronization Messaging Channel (ESMC) to allow best clock source traceability.
Metro Ethernet Aggregation
The Cisco ME 3800X Series is built to meet service provider requirements for Carrier Ethernet aggregation. It is optimized for the remote central office (CO) and smaller aggregation sites where a fully featured, small-footprint aggregation platform is needed. The Cisco ME 3800X Series offers service flexibility and delivers Layer 2, IP, and MPLS transport for advanced Layer 2 and Layer 3 VPN and multicast services.
Key Differentiators
The Cisco ME 3800X Series helps service providers deliver advanced services for residential broadband, mobile, and Metro Ethernet applications. The highlights of this aggregation platform include the following.
Cisco Carrier Ethernet ASIC
Powered by Cisco's Carrier Ethernet ASIC, designed specifically for the needs of service providers, the Cisco ME 3800X Series delivers essential Carrier Ethernet technologies including: Hierarchical QoS (H-QoS), MPLS, and Virtual Private LAN Services (VPLS). The ASIC provides line-rate performance and enables advanced services including ACL and H-QoS without impacting performance. This Carrier Ethernet ASIC incorporates innovative traffic management capabilities while providing intelligent packet switching and routing operations.
Service Richness
With the Cisco ME 3800X Series, each service is assigned enhanced QoS and security attributes. The Cisco ME 3800X Series accomplishes advanced per-traffic-class metering and offers bidirectional packets and bytes statistics. The service offering is enhanced with rich operations, administration, and management (OAM) functionality including: Layer 2 Connectivity Fault Management (CFM), IP SLA for Layer 3, and MPLS OAM.
Service Scale
The Cisco ME 3800X Series delivers unmatched service scalability in a 1RU footprint. With support for 256,000 MAC addresses and 8000 bridge domains, this switch router delivers high performance and high scale for point-to-point and multipoint VPN services. A total buffer size of 352 MB is available to provide per service advanced QoS capabilities.. Such amount of buffer is required when stringent applications like financial or video must be protected against the impact of 10 Gbps to 1 Gbps speed mismatch. The quantity of statistical counters enables the Cisco ME 3800X Series to provide a high level of service metering and monitoring throughout its range of scale.
High-Performance Hardware
The Cisco ME 3800X Series provides two slots for hot-swappable and redundant power supply. Three fans are integrated into each power supply, providing fan redundancy. High Availability is also achieved on the Cisco ME 3800X Series through proactive diagnostic tools including Generic On-Line Diagnostics (GOLD) and Onboard Failure Logging (OBFL). These tools help service providers avoid potential problems before they occur and troubleshoot and diagnose once identified.