Description
Laptop Dell Latitude E5540
Intel core i5-4310U @ 2.00Ghz
8GB RAM 500GB HDD
Windows 7 Professional
Webcam
Refurbished Laptop Wholesale
Cosmetic and functional condition for item is as stated in above item grading.
For a complete description of item grading please read below.
Batteries may be used, unless otherwise stated and may not  be fully charged at time of shipping.
Current hardware drivers may not be fully installed at time of sale.
All laptops or desktops come with  a compatible adapter and/or power cable unless otherwise stated.
Notes:
Items may not be refurbished to exact OEM specification and may contain compatible parts
Batteries that are used may not have the same capacity or retain a charge like a new battery.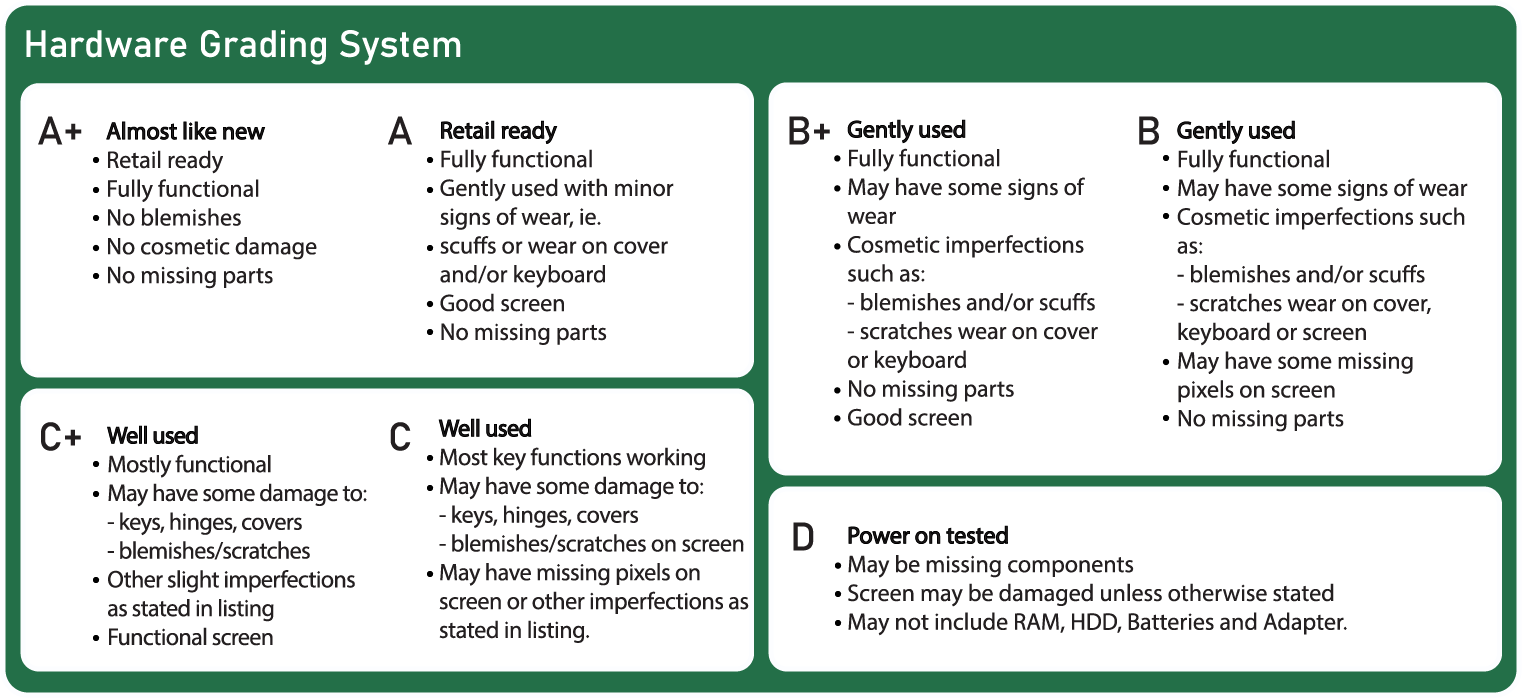 Table 1. System Information

| FEATURE | SPECIFICATION |
| --- | --- |
| DRAM bus width | 64-bit |
| Flash EPROM | SPI 32Mbits + 64Mbits |
| PCIe Gen1 bus | 100 MHz |
| External Bus Frequency | DMI (5GT/s) |
Table 2. Processor

FEATURE
SPECIFICATION
Types

Intel Core i3 series
Intel Core i5 series
Intel Core i7 series

L3 cache
up to 8 MB
Table 3. Memory

FEATURE
SPECIFICATION
Memory connector
two SoDIMM slots
Memory capacity
2 GB, 4 GB, or 8 GB
Memory type
DDR3 SDRAM 1600 Mhz
Minimum memory
2 GB

NOTE:

 A 64-bit operating system requires a minimum of 4 GB memory.

Maximum memory
16 GB

NOTE:

 Each SoDIMM slot supports maximum of 8 GB memory.

NOTE:

 A 64-bit operating system is required for the 16 GB memory in use.
Table 4. mSATA Support

FEATURE
SPECIFICATION
with Express Card I/O and Discrete Graphic Configuration
No mSATA support on both Latitude E5440 and Latitude E5540.
for other configurations
mSATA is supported on both Latitude E5440 and Latitude E5540.
without Express Card I/O on Discrete Graphic and all UMA Graphic Configurations

Supports mSATA and WWAN on Latitude E5440
Supports mSATA on Latitude E5540.
Table 5. Audio

FEATURE
SPECIFICATION
Type
four-channel high definition audio
Controller
Realtek ALC3226
Stereo conversion
24-bit (analog-to-digital and digital-to-analog)
Interface:
Internal
high definition audio
External
microphone-in/stereo headphones/external speakers connector
Speakers
two
Internal speaker amplifier
1W (RMS) per channel
Volume controls
hot keys for volume control and mute control
Table 6. Video

FEATURE
SPECIFICATION
Type
integrated on system board
Controller
UMA
Intel HD Graphics 4600
Discrete
Nvidia GeForce (N14M-GE) Discrete Graphics Card, 2 GB Graphics
Table 7. Communications

FEATURE
SPECIFICATION
Network adapter
10/100/1000 Mb/s Ethernet (RJ-45)
Wireless

Internal wireless local area network (WLAN)
Wireless wide area network (WWAN) (E5440 only)
Table 8. Ports and Connectors

FEATURE
SPECIFICATION
Audio (optional)
one microphone/stereo headphone/speakers connector
Video

one 15-pin VGA connector
19-pin HDMI connector

Network adapter
one RJ-45 connector
USB 2.0

one 4–pin USB 2.0–compliant connector (E5440)
two 4-pin USB 2.0-compliant connectors (E5540)

NOTE:

 The USB 2.0 connector at the back of the Latitude E5540 computer, gets deactivated, when the Latitude E5540 computer is connected to the docking station.

USB 3.0
two USB 3.0–compliant connectors
Memory card reader
one 8-in-1 memory card reader
Docking port
one
Subscriber Identity Module (SIM) port
one (E5440 only)
More information on the manufacturer
datasheet